Thanksgiving on the Books: The 12 Best Things to Read for the Holiday
Thanksgiving, for all of its glorious secularism, is a holiday that… has some problems. Like, historically and presently. You can ignore it and eat all the food, or you can acknowledge it and eat all the food. At the end of the day, you still get the food. Reading is easy on the stomach and second only to napping as an ideal post-prandial (in)activity. There aren't a ton of stories or poems set during Thanksgiving, but the ones that I found all evince a discomfort with conventional ideas of American-ness, of family. Give thanks for these wonderful writers, but take account too. "Out of the rack and ruin of our gangster death," Langston Hughes writes in his poem, "Let America Be America Again,"  "The rape and rot of graft, and stealth, and lies, / We, the people, must redeem… And make America again!"
Let's start out with another poem, a translation of a Haudenosaunee prayer of Thanksgiving by a white woman, Harriet Maxwell Converse, whose family had a long relationship with the Seneca and who, herself, was adopted by and elected as a chief within the matriarchal Six Nations. This prayer gives thanks for "for the light which we call our oldest brother, the sun that works for our good," "the darkness that gives us rest," and "the bright spots in the skies that give us signs, the stars."
I love Marie Helene Bertino's story, "North Of," which Jim Shephard recommended for Electric Literature's "Recommended Reading" series. It is the perfect holiday set up: an estranged daughter brings home Bob Dylan (yes, that Bob Dylan) home for Thanksgiving.
Anne Tyler has two books that prominently feature Turkey Day: her 1985 novel, The Accidental Tourist, and another in 1998, A Patchwork Planet. (This not counting her other 18 novels.) Both feature indecisive men and disastrous meals.
Richard Ford's The Lay of the Land—the third book to follow his protagonist Frank Bascombe, whose story began in 1986's The Sportswriter—takes place on the Jersey Shore over Thanksgiving weekend in 2000. Think middle age, "kids today," organic food. The review I read of this book was not great.
Rick Moody's The Ice Storm (also a movie!) follows the Hood family, WASP-y as all get out, on the day after Thanksgiving. 1973 New Canaan, Connecticut, in Moody's telling, is all key parties, Marvel comics, extramarital affairs, Metro North, and of course—ice.
I also love Elizabeth Alexander's "Butter," an ode to her mother who loves the stuff "more than anyone.  She pulls chunks off / the stick and eats it plain."
Originally published in 1882's Aunt Jo's Scrap-Bag, the Louisa May Alcott story, "An Old-Fashioned Thanksgiving," does not follow the famous March family. Set in early 19th century New Hampshire, the Bassett children face a Thanksgiving day alone as their parents rush to town to see after the health of their grandmother. Pretty folksy, but I am glad to have read this description of "the soft scurry of mice in the buttery."
Truman Capote's "The Thanksgiving Visitor" is a sequel to his better known story "A Christmas Memory." Both are largely autobiographical: in this, eight-year-old Buddy is teased for being a sissy but discovers a way to get back at his bully. You can check out the 1967 adaptation on YouTube.
"Some Other, Better Otto," a story about wanting, and not wanting, to see your relatives by Deborah Eisenberg, is funny and mean and sad and full of love. From the titular Otto: "Everyone always says, 'Don't you want to see the baby, don't you want to see the baby,' but if I did want to see a fat, bald, confused person, obviously I'd have only to look in the mirror."
Ojibwe poet Heid E. Erdrich (sister, also, to novelist Louise) answers Robert Frost's poem "The Gift Outright" (google it if you must—I'm not giving Frost the clicks!) with her own "The Theft Outright": "What's America, but the legend of Rock 'n' Roll? / Red rocks, blood clots bearing boys, blood sands / swimming being from women's hands, we originate, / originally, spontaneous as hemorrhage."
Plus bonus movies! (For those too full to read.)
The Addams Family Values is the greatest Thanksgiving movie of all time.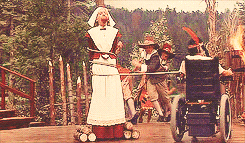 House of Yes–there's incest!
A Miracle on 34th Street is arguably a Thanksgiving movie.
Planes, Trains, and Automobiles gave me a panic attack and therefore I cannot recommend it.