Flatbush Avenue: The Rising of Downtown Brooklyn
[sponsored_by action_blurb="Presented By" name="Douglas Elliman" url="http://www.elliman.com/new-york-city/brooklyn" logo="http://brooklynbased.com/wp-content/uploads/2014/02/DE_logo_1XStack_120x60_Blue+Gray.jpg" attribution_action_blurb="Created By" attribution_name="BlankSlate" attribution_url="http://blankslate.com/advertisers/"]The only way to truly understand Brooklyn is to walk its streets, see its homes, meet its people, and understand its ebb and flow. Never before has looking for a home in Brooklyn been this exciting.
Stop by Elliman's Downtown Brooklyn and Fort Greene office located at 664 Fulton St.[/sponsored_by]
Flatbush Avenue is one of the longest streets in Brooklyn. It runs from the Manhattan Bridge all the way to the Rockaways. It's a very old route that started as a Native American path and became a road in Colonial times — even becoming the target of a strategic roadblock during the Revolutionary War.
Flatbush today is no quaint colonial trail. Recently, Flatbush has been undergoing a sea change, thanks to an influx of luxury high-rises in Downtown Brooklyn and the seismic impact of the new Barclays Center at Flatbush and Atlantic.  
Downtown Soaring Upward
Crossing the Manhattan Bridge from Manhattan to Brooklyn used to mean leaving skyscrapers behind, driving down a Flatbush flanked by low-slung retail and residential buildings of little distinction. No more. Now the visitor to Brooklyn is greeted at the gate by the new additions to Brooklyn's once modest skyline, residential and commercial skyscrapers built over the past decade that tower over their neighbors and offer magnificent views of Manhattan and the southern half of Brooklyn.
Oro at Flatbush and Gold
Within two blocks on one side of Flatbush, the residential high-rises Oro, Avalon Fort Greene, and Toren are a perfect illustration of the current explosion of interest in Downtown Brooklyn.
"The Clocktower," Avalon Fort Greene, and Toren
And it's not just about luxury apartments and big corporations looking for cheaper New York real estate. Downtown Brooklyn has become a hotbed of innovation, too, as evidenced by a modest building you can see standing between Oro and Avalon Fort Greene. 325 Gold Street, popularly known as "the Clocktower," was built in the 1920s for a printing company but had been falling apart for years. After a renovation in the 2000s, as described in Brooklyn Magazine, it began to attract such up-and-coming companies such as Etsy, the global marketplace for independent artisans and craftspeople, and The Awl, the online publisher network behind Billfold, Splitsider, The Hairpin, and The Wirecutter.
School flags hanging along Flatbush
On the other side of these high-rises is Brooklyn's unofficial college district. The area boasts a whopping eleven colleges and universities, including Brooklyn Law, Long Island University, and Berkeley College, all within walking distance. MetroTech Center, to the southwest of Flatbush, is home to the NYU Polytechnic School of Engineering and the New York City College of Technology (a.k.a. CUNY Tech), as well as businesses and organizations like MakerBot Industries, the Brooklyn Nets, the Ms. Foundation for Women, Chase Manhattan Bank, and National Grid.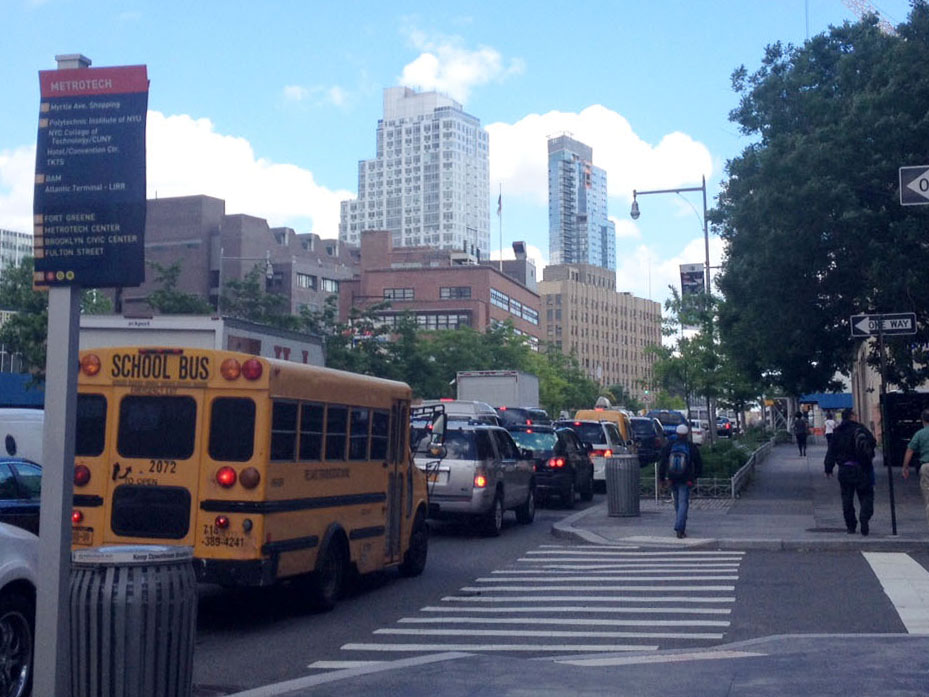 The very busy MetroTech Center
This part of Flatbush doesn't have much in the way of shops, but the street is always bustling with students and people working at MetroTech or the nearby government buildings. There is, however, an excellent wine and spirits shop at Flatbush and Johnson called Wright and Goebel. Their selection includes more than a few Brooklyn-made spirits, including Greenhook Gin and Owney's Rum.
Fortunately, many of these newer developments include green spaces accessible to the general public. Metrotech Commons, stretching from Jay Street to Flatbush is an oasis of calm in the middle of the city's business and technology district. And high-rises like the Avalon at the corner of Flatbush and Myrtle include their own small parks.
Take a seat and relax among the green at the Avalon
Long Island University takes up the blocks between Willoughby and Dekalb. The LIU Blackbirds have done well in the NCAA tournament in the past few years, and Kumble Theater is known for its excellent productions. The Brooklyn Hospital Center is just to the east of the school in Fort Greene. This area attracts a lot of businesses that serve students and hospital workers alike: Starbucks, ultra-cheap pizza places, and a very popular Applebees.
Long Island University
Looking south down Willoughby, you can see 388 Bridge, the tallest building in Brooklyn…for now. In 2015, it is expected to lose its title to the Avalon Willoughby West, going up across the street. Gone are the days when the Williamsburg Savings Bank Tower was the tallest building in the borough.
388 Bridge Street, the tallest building in Brooklyn
The construction on the corner of Flatbush and Willoughby is the beginnings of City Point, a complex that will mix retail, residential and commercial space. Its 675,000-square-foot retail center will house tenants such as Century 21, Alamo Drafthouse Cinema, City Target, and a food market hall.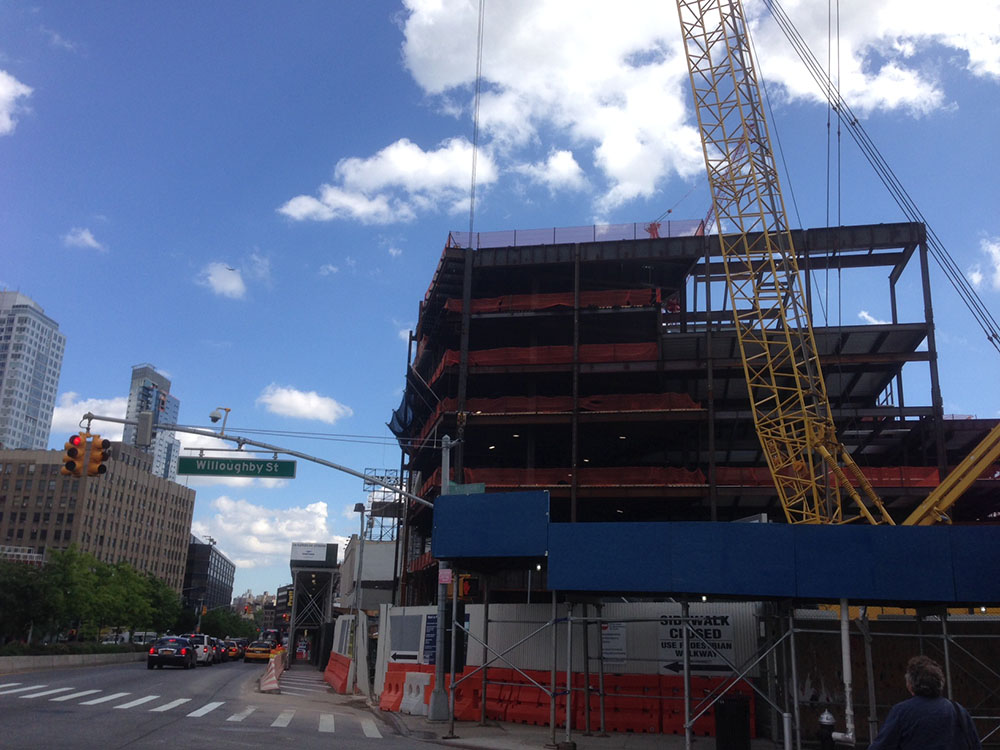 Junior's, at DeKalb and Flatbush, is one of the most iconic places in Downtown Brooklyn — where pretty much everyone (including President Obama) goes for the best cheesecake in New York. Junior's now has locations in Times Square, Grand Central Station, and even Foxwoods casino, but this original location may not be around much longer. As discussed in this New York Times article, the bidding has already begun on Junior's valuable piece of real estate. If a developer manages to buy up this triangular block, it's entirely possible that we will see a 1,000-foot tower in its place. (To put that into perspective, that would not only be the tallest building in Brooklyn, but the 7th tallest in New York City.)
Junior's Restaurant and Bar
It's official: Downtown Brooklyn, thanks to rezoning begun during the Bloomberg era, has become a city of skyscrapers. With 33 new apartment buildings having been built, and another 27 on the way, Brooklyn is booming. And for the first time ever, Manhattan's skyline has a rival across the Hudson.
A few blocks farther and you come to Fulton Street and the beginning of the Fulton Mall, one of Brooklyn's last outdoor shopping arcades, and a bastion of discount shopping in an upwardly mobile borough. Every type of store can be found here — from a Macy's and a Gap outlet, to dollar stores and Cookie's (one of Brooklyn's classic kids' department stores where generations of students have gotten their school uniforms), to pawn shops, cash-for-gold shops, and the Fulton Hot Dog King.
A Hub of Activity
There are lots of entertainment options at BAM
At Fulton Street, Flatbush becomes something of an arts district, with Mark Morris Dance and the Brooklyn Academy of Music (BAM) on Lafayette and the BAM Harvey Theater on Fulton. BAM's main building, the Italian Renaissance-themed Peter Jay Sharp Building, was designed by the firm Herts & Tallant in 1908 and houses the Howard Gilman Opera House, BAM Rose Cinemas, and BAMcafé. The BAM Harvey Theater had a former life as the Majestic Theater, a playhouse that became a movie theater before closing in 1968. After almost 20 years of neglect, BAM started renovating it in 1987, preparing it for its new role as BAM's second theater space. BRIC, another multi-disciplined, multi-pronged cultural organization recently opened a new facility nearby at the corner of Fulton and Rockwell Place.
A sad Brooklyn bear turned into a beautiful community garden
There's also a tiny but verdant community garden on this corner called Brooklyn Bear's Community Garden, so-named for a sad, plush teddy bear found on the vacant lot that became the garden. From this corner you also get a great view of the Williamsburgh Bank Tower, once the tallest building in Brooklyn.
One of the busiest terminals in Brooklyn: Atlantic Terminal
A few blocks up, the intersection of Flatbush and Atlantic is one of the biggest and busiest in the borough. The busy train station houses Long Island Railroad's Atlantic Terminal as well as the MTA's Atlantic Avenue-Barclays Center, serving the 2, 3, 4, 5, D, N, R, and Q lines. The adjacent Atlantic Terminal Mall is home to Target, Victoria's Secret, Bath and Body Works, and a variety of other chain stores. Across the street a huge P.C. Richard and Sons and a Modell's round out the shopping opportunities.
Barclays Center, home of the Brooklyn Nets
Explore Brooklyn has this to say about the Barclays Center: "The opening of the Barclays Center has been a game changer — it's brought a big-name cachet to Brooklyn that was previously reserved for Manhattan. You'll see the Brooklyn Nets' (formerly the New Jersey Nets) instantly iconic black-and-white insignia gracing caps and jerseys up and down the borough. And when the Nets aren't playing home games, internationally renowned music acts — Jay Z, Barbra Streisand, Paul McCartney, Justin Timberlake — perform for packed audiences. Barclays was also the site of the 2013 MTV Video Music Awards (you know, when Miley Cyrus did that dance) and this year's Rock and Roll Hall of Fame Induction Ceremony."
Next door is an interesting site: the construction of the Atlantic Yards' first residential tower, B2. What makes it interesting is that it's being erected by modular, pre-fabricated construction, with the apartments being put together at the Navy Yard and then stacked on top of each other.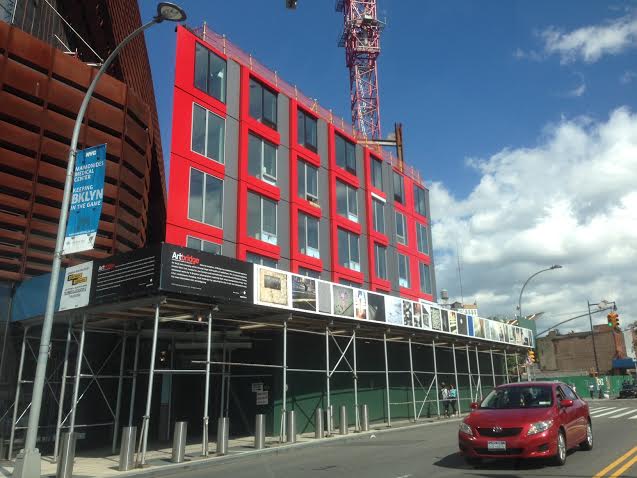 B2 at Atlantic Yards
A Gentler Ascent
On the other side of these performing arts centers, shopping malls, and transit hubs, as Flatbush begins to climb the slope towards Prospect Park that gives Park Slope and Prospect Heights, it becomes a different street. The buildings are lower, the businesses cater to a more residential clientele, and the hectic activity of Downtown Brooklyn gives way to leisurely shopping, drinking, and eating. For now, development on this part of Flatbush comes in the form of new stores, rather than new buildings.
Pintchik Hardware
Pintchik, one of the most-loved hardware stores in Brooklyn, is at the intersection of Flatbush and Bergen, and the bright yellow building it sits in is a major landmark. Flatbush, from here to the park, is lined with the types of businesses that make a neighborhood work — bodegas, coffee shops, gyms, yoga studios, and most notably, great places to get food.
Bergen Bagels & BKLYN Larder
Bergen Bagels, on the Prospect Heights side of Bergen has some of the best bagels in the city. They don't have crazy flavors like some other great bagel shops, but they don't need to. The sesame bagel here is one of the best things to eat in Brooklyn. If you're a fan of the police station sitcom Brooklyn Nine Nine, you may recognize the nearby 78th Precinct from its frequent use in the show's establishing shots.
BKLYN Larder, across the street, is filled with meats, cheeses, baked goods, condiments, and all of the delicious artisanal products Brooklyn has become so famous for. They also make sandwiches and other prepared foods, and sell house-made ice cream, sorbets and gelati.
Sugarcane & Woodland (with Flatbush Farm in the background)
On the same block stands Sugarcane, one of the best Caribbean restaurants in New York, and Woodland NYC, with a New American menu, a gorgeous open space, and private event spaces that can handle events for up to 250 people.
Flatbush Farm & Bar (n) sits on the Park Slope side of the intersection of Flatbush and St. Mark's. The farm-to-table restaurant and next-door bar have a great garden during the summer months. Across the street in Prospect Heights, Morgan's Barbecue is home to some of the most authentic Texas-style barbecue in New York, with a pitmaster who worked at Franklin Barbecue, a famed Austin institution. There's outdoor dining along the sidewalk here, complete with rocking chairs for southern charm.
BYKLYN Cycling Fitness
This many great restaurants, of course, necessitate places where Brooklynites can work off all those extra calories. The block of Flatbush between St. Marks and Prospect offers two places to get a hard-core workout: BYKLYN, Park Slope's newest indoor cycling gym, and HIITBK (High Intensity Interval Training Brooklyn), a fitness studio guaranteed to get your heart pumping and your muscles as sore as they can be.
Flatbush is the Broadway of Brooklyn, in that it cuts diagonally across the grid. The brownstone- and tree-lined side streets meet Flatbush at sharp angles here, like fishbones coming off a central spine, stretching down into Park Slope or up into Prospect Heights.
Burrito Bar and Kitchen & Hooti Couture
Burrito Bar was once a TriBeca-area destination for its hippy-dippy decor and California-style Mexican food. When rents got too high in Manhattan, they moved to this funky, airy location in Prospect Heights. For funky clothes options on Flatbush, there's Hooti Couture, with vintage pieces hand-picked by former model and long-time Brooklyn resident Alison Houtte.
Antonio's Pizzeria & Sharlene's Cocktails
The block of Flatbush between 7th Avenue and Sterling is a mix of old Park Slope holdouts like Antonio's Pizza and the Dominican restaurant El Gran Castillo de Jagua, next to new developments like a two-story Crunch gym and an American Apparel that set up shop in an old movie theater. The dive bar Mooney's is sadly no longer around, but it has been replaced by the less dive-y and much cleaner Sharlene's.
The retro Christian Science Reading Room
There's a Christian Science Reading Room at Flatbush and Sterling Place that looks like it hasn't changed a bit since 1973, tucked in among pharmacies and bodegas. It shares a block with Franny's, one of Brooklyn's best-known wood-fired pizza emporiums.
Olmstead and Vaux's Masterpiece
At the top of the hill, Flatbush arrives at Grand Army Plaza, flanked by large, pre-war apartment buildings and limestone townhouses.
Grand Army Plaza subway station
Grand Army Plaza was designed by by Frederick Law Olmsted and Calvert Vaux in 1867, to serve as a suitably impressive entrance to Prospect Park, which they also designed. Flatbush, Prospect Park West, Vanderbilt Avenue, and Eastern Parkway (also designed by Olmstead and Vaux, who coined the term "parkway"!) all meet in an inner traffic circle around our own mini-Arc de Triomphe, the Soldiers' and Sailors' Arch. Around the Plaza stand large pre-war apartment buildings, various fountains and statues, tree-covered berms, the main branch of the Brooklyn Public Library, and the northwest entrance to Prospect Park, where there is a popular farmer's market on Saturdays.
The Soldiers' and Sailors' Arch, 1 Grand Army Plaza, The Brooklyn Public Library
Grand Army Plaza can be easily reached by the 2 and 3 trains (or the nearby Q and B on 7th Avenue). There are many places to explore around here: Prospect Park, of course; or a stroll down 7th Avenue, the heart of Park Slope; or Eastern Parkway, with the Brooklyn Museum and the Brooklyn Botanic Garden; or Vanderbilt Avenue, the rapidly developing main street of Prospect Heights.
From a vibrant, 21st-century downtown to a verdant look into Brooklyn's 19-century past — the stretch of Flatbush from the Manhattan Bridge to Prospect Park is a snapshot of New York's most exciting borough as it continues its march into the future.
For more local Brooklyn flavor, check out our guides to Atlantic Avenue, Court Street, Smith Street, Bedford Avenue, 5th Avenue, and 7th Avenue — check out all the guides here. Check out Downtown Brooklyn Partnership and the North Flatbush BID to learn more about the areas profiled in this post.